It's December & we are filled with joy to announce our Students of the Month: Lillie Blanton & Maddix Hanner! These are sweet, hard working students! Keep up the great work!
Excited for our 5th grade Veterans Day program tonight!
Congratulations to our November Students of the Month: Tesla Caraway & Damian Alvarez! We loved being able to put a big smile on their faces! Keep up the good work!
Tomorrow starts Red Ribbon Week with Pajama Day!!! Please make sure pajamas are in dress code.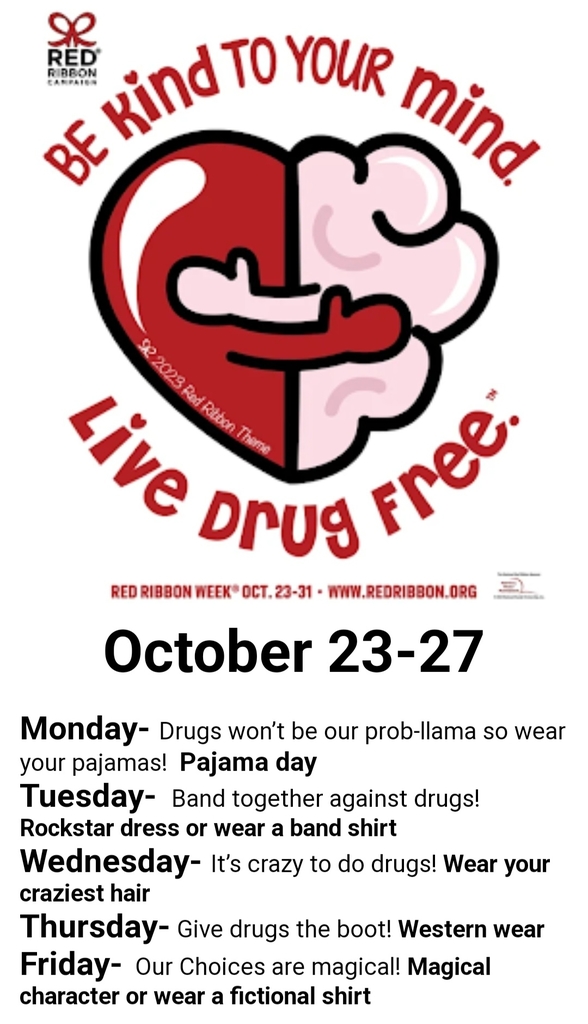 October has arrived & we have picked some wonderful, kind young men for Student of the Month: Sawyer Seahorn & Raymundo Garcia! Great job!!!!
Tuesday, September 19th is Picture Day!!!
We want to Congratulate Layla Atchley & Raylee Meuir on being picked for our September Students of the Month. These sweet girls have stood out to their teachers by working hard & making good choices!
Harmony Elementary & Intermediate, show your school spirit & dress up this week!
Elementary & Intermediate offices will be open Thursday, Aug. 3rd 8am-6pm for Registration. Our offices will be closed Friday, Aug. 4th until noon for a District meeting, but will be open from 12pm-4pm.
Elementary & Intermediate will start Registration Aug. 1st 8am-4pm. Meet the Teacher will be Aug. 8th 3:30-6pm. We're excited to see all of our students!
This is Intermediate's 2023-2024 school supply list so you can get a head start! School starts August 10th!
Congratulations to Miranda Hurtado & Marley Aaron for pushing through the year & being picked for our Students of the Month!!!
We hope everyone enjoys their long weekend, & has a Happy Easter!
Congratulations Fabiola & Cindy on being picked as Students of the Month! Way to push through the school year!
Congratulations to Martin Cervantes & Lailany Aguilar on being picked for Students of the Month! Keep up the good work!
Picture Day today!
It has been an interesting start, but it is February & we have two sweet Students of the Month the introduce: Jaycee Marrs & Trenton Willard!
Harmony ISD will have a delayed start on February 2, 2023. Our busses will begin routes at 8am. Classes will start at 10 am. We thank you as we monitor the weather and make adjustments to the school day for the safety of our students.